Call Of Duty: Warzone's Subway Location Map Revealed Ahead Of Season 6
Need to catch a ride to escape the closing circle? Or looking for new tunnels to wage war in? Season 6 of Modern Warfare has you covered.
Call of Duty: Modern Warfare is approaching its sixth season of content, with an earlier teaser trailer revealing its September 29 release date. Along with returning characters, Season 6 is bringing with it firefights underground which will take place in a new subway system underneath Warzone's map.
Verdansk is being updated with an entire subway network that will let you zip around its large land mass when Season 6 arrives. The map shared shows a few stops that the train will make as it circles around the map, letting you hop aboard for a quick ride. Of course, it's unlikely that you'll be the only player thinking about this, giving you another space to both hunt and avoid foes in.
Some disclaimers on the image make it sound like the subway system will be a way to circumvent the deadly gas above ground that will kill you if you find yourself outside of the encroaching circle. The train will also not stop at stations that are engulfed in gas, which narrows down your ability to escape if you've already been caught out above.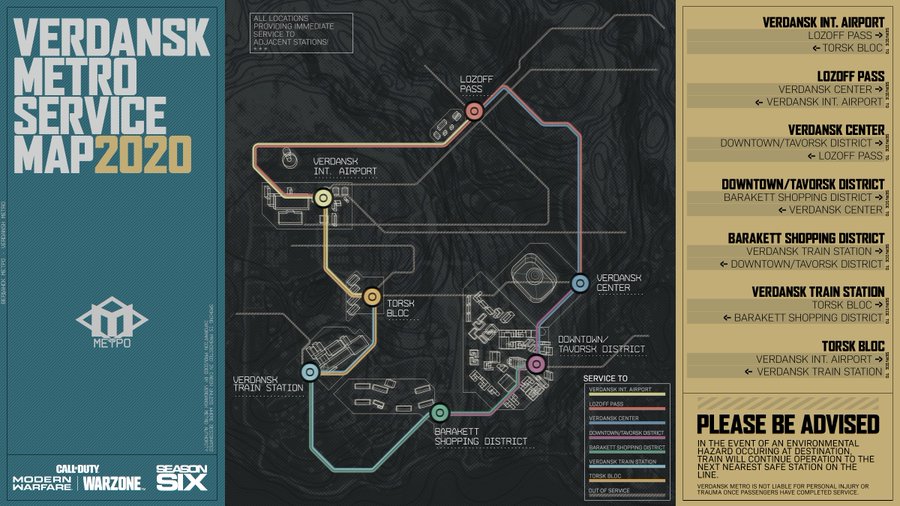 Verdansk Metro Stops
Verdansk Train Station
Torsk Bloc
Verdansk International Airport
Lozoff Pass
Verdansk Center
Downtown/ Tavorsk District
Barakett Shopping District
Season 6 of Modern Warfare is also bringing back two characters from the game's campaign, namely freedom-fighter Farah and Soviet soldier Nikolai. There's no indication if this will be the last season for the shooter considering the launch of Call of Duty: Black Ops Cold War is less than two months away. Activision has confirmed, however, that Warzone will remain operational and incorporate elements from Cold War after its release.